The Black Dog show room is looking as crisp as this weather has been. It's the first week of Spring, and despite the cold weather, we've managed to accomplish some exciting new projects, including, Phase One of a large design project for a brand new home in Roswell, Revamping our entire showroom, and bringing in new discounted pieces and designs that warmed the place right up.
We have so many chairs and they NEED to go to a great home. They're beautiful! These dusty blue designs paired with timeless leather sit low to the floor making them perfect for small, intimate seating areas. We brought them in from the warehouse, threw discount dog tags on them, and put them in a living room staging right up in the front of the showroom. The stage features blues, grays, browns and textures on textures. Come see in person. You'll see why we are so in love.
New pillows are everywhere.
Pillows make combining two design styles simple and cozy. You'll see pillow combos we love all over the showroom. Bohemian colors pop against subtle traditional patterns, and a textured throw ties it all together.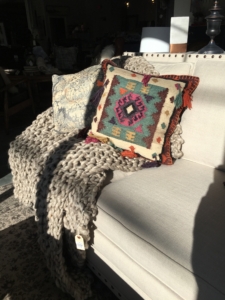 Bold metallic details pop against this black leather chest. A PERFECT example of some of the 2018 design trends we highlighted last post.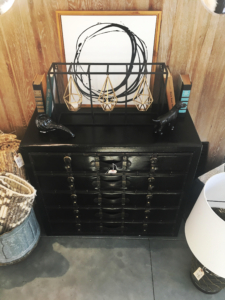 We've got good deals and fresh designs ready for you in our newly flipped showroom, and we can't wait to see what other deals we can find as our spring cleaning sale continues. Hope to see you soon!
-Talyn, design assistant
Black Dog Interiors
1243 Canton Street
Roswell, GA 30075
470-514-5414