Home Furnishings & Interior Design Shop in the heart of Downtown Roswell, GA!
Black Dog Interiors is your one-stop-shop for all things HOME! Our style is a mix of classic and eclectic, creating unique transitional spaces that are not only beautiful but functional too! Whether you are looking to re-do your entire living room or maybe you just need a new candle, we welcome you to our store and are positive we can help you find exactly what you are looking for. If not, we can order it!
Stop in today and let's make your house a home!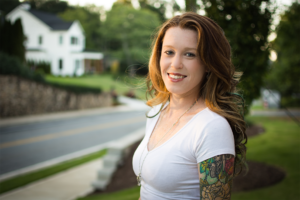 Meghan C. Luby's passion for interior design began as a child; she constantly rearranged and redecorated her room, taking inspiration from various design shows & daily life. Encouraged by her parents to pursue this interest, she dabbled in photography, sculpture, welding, jewelry making — all of which helped her hone her skills & develop a personal style she employs in her work now.
Building livable, cozy & chic spaces for her clients is her passion. It's all about finding the happy medium between fashion & function. Living in a two-story loft in Historic Roswell, she has become inspired by industrial design and seamlessly melding industrial with bohemian and traditional touches. Having grown up in a very traditional home, she prides herself in her ability to fuse contrasting concepts to create harmonious & interesting spaces.
Luby graduated from Valdosta State University in May of 2010 with a Bachelor of Fine Arts and emphasis in Interior Design & Metalwork. During her time at Valdosta State, she interned at Americasmart where she ran a showroom for high-end furniture line, Indo Puri out of Atlanta, GA. After gaining valuable experience during her internship, she took her skills to Outrageous Interiors, Queen of Hearts, & White Dog Decor, where she arranged & managed showrooms while assisting clients with design questions and taking in-home design appointments.
After forming a wonderful relationship with her client Malinda O'Brien, owner of White Dog Decor, Meghan was given the opportunity to join the team as lead interior designer. She excelled in this environment offering a fresh perspective and helping to give the showroom a much needed facelift. After only a few months, Luby decided it was time to spread her wings and establish her own company and Black Dog Interiors came to fruition in June of 2016.
After experiencing great success in the Alpharetta market, it was time for Meghan to leave White Dog Decor and open up her own storefront! Black Dog Interiors is happy to now call downtown Roswell home. Please visit us at: 1243 Canton Street.
Stop in and say hello! Curious about my services? Drop me a line on my contact page!